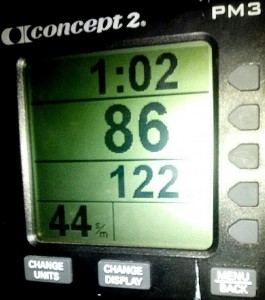 Strength WOD
Hang Power Clean
5×3
Work up to a new 3rm
WOD
1 minute AMRAP
15′ Rope climb
Rest two minutes…
3 Minute AMRAP
3 Squat Snatches
6 Overhead Ball Slams
Rx: 135/95
Rest two minutes…
5 Minute AMRAP
5 Deadlifts
5 Wall Balls
Rx: 365/225
Rest two minutes…
1 minute AMRAP
Sprint Row for distance
My Results:
Strength WOD –>  Hang Power Clean – 65# — Probably could've done more weight here for this amount of set/reps, but I was a little scared since the last time I had to do these, 75# was a bit much.  Will go for it next time.
VERY excited about my rope climb performance.  I made it most of the way up the first time & partially up the second time, within1 minute.  The way down was a lot more difficult than I expected.  Thanks to Jennie, I can actually kind of do this.  Gloves were completely OFF by the way – hands were a little tender immediately after class, but have since recovered.
Squat Snatch weight – 45# (just the bar) & could only just kinda get through these.  SUPER hard, particularly because of the overhead squat portion of the movement.
Deadlift weight – Tried to do 115# but could barely get through first set of 5.  I dropped the 10's off each side & the 95# weight was STILL heavy, but I pushed through.  It felt VERY good.
Wall balls & overhead ball slams weight – Both done with 12 lb ball.
My results of the Sprint Row are above – I have no idea how to read that thing, so I guess I'll just have to do it a few more times before I figure out if what I'm doing is decent or not-so-much.